Garden Decking in Radstock
Garden decking in Radstock is more than a mere outdoor accessory, is a great way to expand your outdoor living space. Garden decking can be a very welcome addition to your garden in this respect as it can provide a number of unique benefits. Indeed, as well as being affordable, durable, sustainable and low maintenance.
Why should you have garden decking in Radstock?
One of the best ways to transform your garden, turning it into something beautiful and stylish, is to have decking installed at your home. A wooden platform that is perfect for placing tables, chairs, sofas and plants, having decking installed in your garden can create an elegant space. It is excellent for relaxing in the sunny weather and even adds value to your home.
Decking can be designed in a variety of styles and with different types of wood. This means it can be made in a way that is entirely unique to your home. Our team of expert landscapers with many years of experience will be able to help design your garden decking in Radstock which is not only bespoke but completely unique to your own home.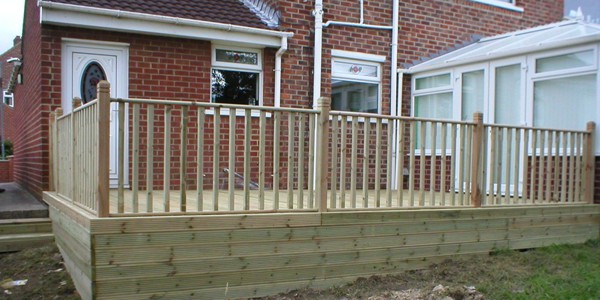 As well as being an eye catching part of your garden, our stylish decking for Radstock homes and gardens will increase the value of your property and create extra space. It is also very easy to maintain and only needs infrequent cleaning in order to remove bits of dirt and moss. This will also help to keep the finish looking amazing for many years to come, and will ensure that mould doesn't begin to gather on the decking.
Contact S.C Landscaping and Tree Surgery
Customised to your needs and desires, our decking will provide a completely unique space to your home, with wood, finish and design all controlled by you, so you're left with an excellent feature that will add value to your home for years. Versatile and adaptable, our decking can host dinner parties, sun loungers, easy chairs, planters, mini-greenhouses – whatever you feel like! They make perfect hobby spaces for setting up outdoor workshops, and are sure to impress guests.
Best of all, they won't break the bank, either. Talk to S.C Landscaping and Tree Surgery today and see about getting a quote for garden decking in Radstock. The quality available at the prices we charge could surprise you!